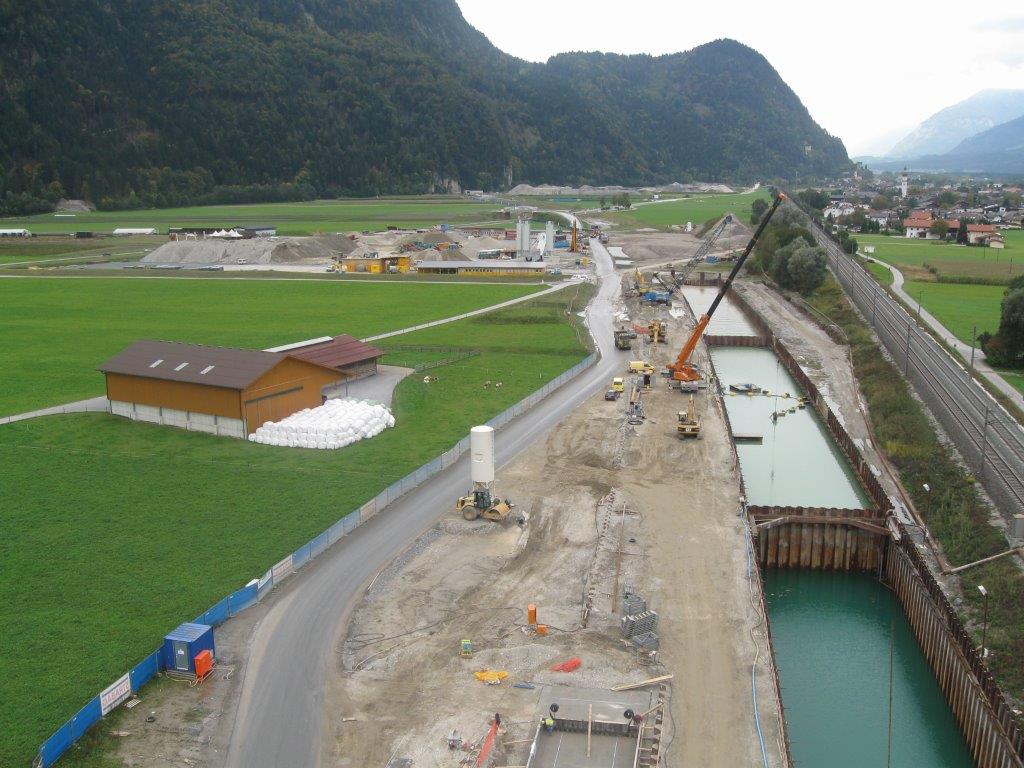 AZ jagged walls
®
sections threaded in reverse form special arrangements that can be used in
applications that require only small section modulus and moment of inertia
, but which for instance need a minimum thickness or a higher watertightness.
The AZ jagged wall represents a very economical solution for sealing screens: reduced height of the wall, constant thickness (for the lighter AZ sections), low driving resistance (no plugging at the toe),
better watertightness due to less interlocks per running meter of wall
(the imperviousness of the wall can be improved with sealing systems),….
Note that due to the low stiffness of the elements, the length of the sheet piles used in such an arrangement is in most soil conditions rather limited.
Typical applications are river and bank reinforcement, shallow trenches,
containment barriers
,….
AZ jagged wall
AZ
Dernière modification : janvier 26, 2019
| | | |
| --- | --- | --- |
| Unités métriques | | Unités impériales |
AZ-700 and AZ-770
–
Section

Dimensions

Properties

b

h

A

G

Iy
Wel
AL

mm

mm

cm2/m
kg/m2
cm4/m
cm3/m
m2/m2
AZ 12‑770
826
181
112
88
2 320
255
1,12
AZ 13‑770
826
182
117
92
2 450
270
1,12
AZ 14‑770
826
182
123
96
2 590
285
1,12
AZ 14‑770‑10/10
826
183
128
100
2 720
295
1,12
AZ 12‑700
751
182
115
90
2 400
265
1,13
AZ 13‑700
751
183
126
99
2 680
295
1,13
AZ 13‑700‑10/10
751
183
131
103
2 820
305
1,13
AZ 14‑700
751
184
136
107
2 960
320
1,13
AZ 17‑700
795
224
117
92
3 690
330
1,16
AZ 18‑700
795
224
123
96
3 910
350
1,16
AZ 19‑700
795
225
128
101
4 120
365
1,16
AZ 20‑700
795
225
134
105
4 340
385
1,16
AZ 24‑700
813
241
150
118
5 970
495
1,19
AZ 26‑700
813
242
161
127
6 490
535
1,19
AZ 28‑700
813
243
172
135
7 020
580
1,19
AZ 36‑700N
834
296
181
142
11 900
805
1,23
AZ 38‑700N
834
298
193
152
12 710
855
1,23
AZ 40‑700N
834
299
205
161
13 530
905
1,23
AZ 42‑700N
834
301
217
170
14 730
975
1,24
AZ 44‑700N
834
303
229
180
15 550
1 025
1,24
AZ 46‑700N
834
304
241
189
16 370
1 075
1,24
AZ 48‑700
836
303
242
190
16 290
1 075
1,23
AZ 50‑700
836
303
253
199
17 100
1 130
1,23
AZ 52‑700
836
305
265
208
17 900
1 175
1,23
AZ-750
AZ-800
| | |
| --- | --- |
| b | Width |
| h | Height |
| A | Cross sectional steel area |
| G | Mass |
| Iy | Moment of inertia |
| Wel | Elastic section modulus |
| AL | Coating area. One side, excluding inside of interlocks |